News ! Facebook is running tests on 'Offers' for business pages.
Read more …. from the great Facebook marketer Mari Smith….
A few select brands on Facebook are currently running tests of a new Facebook product for businesses called "Offers." The most recent Offer, which generated a fair amount of buzz in the past week, was posted by Macy's. Macy's first posted the Offer on Thursday, February 23rd at 7:11am Pacific with an expiration date of February 26th. The Offer was: "Get 25% off your purchase of $100 or more."
The Offer jumped out at me in my News Feed last Thursday when a friend of mine (plus six others!) claimed the Offer. Then I saw the Offer repeatedly in my News Feed, so clicked through to Macy's to check it out on their wall too.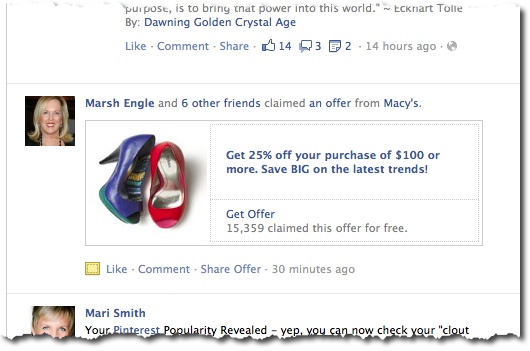 Macy's Facebook Offer – appeared in the News Feed when friends claimed the Offer
Simple, one-click claim – INCLUDING on mobile!
What's super exciting about this new Facebook product for businesses, is the absolute simplicity and ease with which users can claim the Offer. Literally ONE click and Facebook lets you know the Offer is in your email inbox!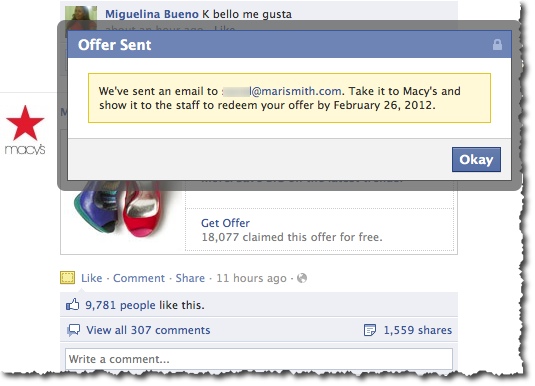 One click on "Get Offer" and Facebook emails you details!
Users can claim the Offer from the wall of the brand's fan page.
Or, users can claim the Offer from their News Feed. Including MOBILE. Hello? Yes, mobile. Now that is thrilling.
More than half of Facebook's 845 Million active users access the site via their mobile devices. Imagine the possibilities of Offers for your business! For local businesses. […]