Mobile Websites
Why Do I Need A Mobile Website?
Or: (why YOU need a mobile website!)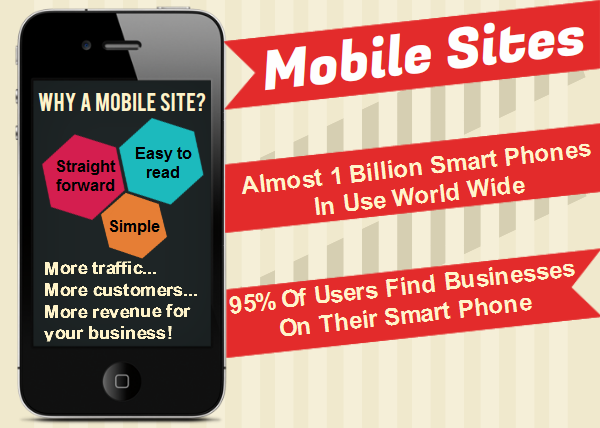 Does your business have a website? Well most do at this point in time, but do you realize that the lack of a proper mobile website might be costing you money and customers? If your business is in the local service sector, this is especially true!
First, it's important to mention that about 25% of web searchers are currently using a mobile device, and by 2015 it is expected that over half of web usage will be on mobile devices
Some other reasons are :
'Click to call' businesses can activate phone numbers in their ads on mobile devices/smart phones
Users BUY things with mobile phones
Users are WILLING to buy!
Mobile searches are made every few seconds, Google has reported a consistent 130% search volum growth year after year with this value expected to RISE as more advanced mobiles are released
More importantly, almost every high end website has, by now, created a mobile version of their website which is accessible for ALL smartphones!
If your business does NOT have a mobile ready website, give us a call and we'll explore the options available.
How Mobile Websites Help Businesses
The future of Internet browsing is in small, hand-held, and web-enabled devices, that is, mobile phones. That is why it is now very important, more than ever before, for businesses to have mobile websites. Every single day, an increasing number of people are surfing the internet through mobile smart phones like Android or iPhone. All over the world, more mobile phones are being sold than computers and most of these devices are internet-enabled. Though mobile websites are increasingly becoming very popular, they still cannot match the web design of standard web pages on desktop/laptop computers. It is no longer a luxury to own a mobile website. Now more than ever, mobile sites are necessary for anyone to thrive in any kind of business. The number of people browsing the internet using their mobile phone is increasing every year. Because of the convenience of a mobile device, users are now literally spending hours on their smart phone. Most of the time, these people browse the web, use mobile apps as well as searching for nearby businesses. Having up to date information on one's fingertips is crucial for any business. A mobile website gives you the opportunity to provide quick information to potential clients on the go. You can provide menus, hours of operation, services offered, links to online reviews and more. Just like any other business, if you get more visitors to your mobile website, you have a high chance of making some of these visitors your customers. However, it's important that your website is optimized for a mobile phone. If the screen is not readable, you'll find potential clients moving on to other businesses. Having a mobile website provides businesses with new ways of connecting and communicating with clients. Most phones will geographically target the search results based on the phones location. Is your business being found when someone is looking for the nearest restaurant or dry cleaner?
Contact us to help your business get found on your clients mobile phones.
Text Message Marketing  Mobile phones are the most used electronic gadget around the world. Youth of today communicate more through SMS. Research shows that many more text messages are sent through mobile phones than calls made from mobile phones. But is text messaging meant for teenagers alone? The answer is of course, NO. It can be used in many other ways including as a marketing tool for your business. The world today is very competitive. New products and new services are launched every day. If businesses and service organizations want to survive the competition and earn more money, they need to promote their product through all available marketing tools. One of the newest and best among them is text messaging marketing or SMS marketing. Text messaging marketing has gained a lot of popularity lately because of it's benefits to business owners. With SMS marketing, messages can be sent to the mobile phones of existing customers, potential buyers, new customers and others. Messages are sent to inform them about the launch of a new product, special offers and store promotions. Text messaging marketing can be useful to businesses, educational institutions, caterers, stage performers, professionals like doctors, engineers and accountants etc. SMS marketing has many advantages over the other marketing tools. Cost Effectiveness This is the cheapest option to promote any business. The businesses can send messages to many customers at a very affordable cost. It allows you to communicate directly with your customers and keep them coming back to your store. It is a much cheaper option than direct mail or other forms of advertisements. Speed Text messages reach your customers in seconds. Other marketing tools like postcards may take days to reach the customers. Reach Almost everyone has a mobile phone these days and people take their phones with them everywhere. Text messages are much more likely to be read immediately than e-mails sent to your customers. E-mails can get caught in spam folders or get lost in the clutter of everything else in a persons email inbox. Short and Sweet Because the number of characters in a text message is limited to 160, messages have to be direct and to the point. Some businesses consider this as a disadvantage. It actually is a blessing. No one has the patience and time to read lengthy messages. Sending a short messsage makes it more likely your message will be read. If you have no idea on where to start and how to start, don't worry. It is not a big problem. There are many websites that offer text messaging services at very affordable rates. If you would like to know how we can help you setup a text marketing plan for your business, please contact us.
Mobile Phone Shoppers Show Growing Preference for Text Marketing
MAY 16, 2012
One in five respondents has made an online purchase on a mobile phone
The maturation of the mobile phone market has put a powerful shopping tool in the hands of an ever-growing number of consumers. And recent research shows that they are taking full advantage of it. According to a February 2012 survey of online US adult mobile phone owners commissioned by advertising company Placecast and conducted by Harris Interactive, one in five mobile phone owners has made a purchase online via their device. Unsurprisingly, smartphone owners were more likely to make mobile purchases than feature phone owners. But the poll also revealed that consumers were most often using mobile phones to facilitate their in-person shopping—half of smartphone users said they had used a phone-based GPS or mapping tool to find a store's brick-and-mortar location.

Overall, US consumers are steadily embracing the idea of making purchases on their mobile phones. The survey found that the percentage of people who thought it was at least somewhat important to be able to make a purchase on their mobile phone had climbed to 38% in 2012, compared with 30% in 2010. But despite those gains, the vast majority of respondents, 62%, still said it wasn't important at all for them to be able to make purchases on their mobile phones.

The number of shoppers interested in receiving promotional texts has also climbed in recent years. As of February 2012, 31% of US mobile phone owners who did not already receive SMS message-based marketing said they were at least somewhat interested in such messages. And 10% said they were extremely interested in SMS messages. Those marketers who can formulate well-crafted mobile offers for those seeking them will likely drive both mcommerce, as well as in-store sales.

eMarketer estimates that mobile phone penetration will reach 76.8% of the US population in 2012. By 2016, smartphones users are expected to account for 74% of all US mobile phone users.
Mobile Websites